Resource Central and CS Live Integration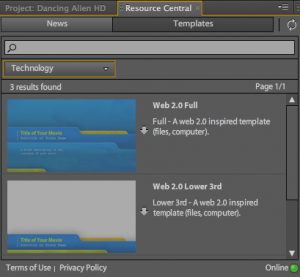 Imagine you want to create something swish rather quickly and you haven't got the time to build great graphics and titles from scratch. Or maybe you're sitting with a client and it's all taking too long. Amaze them, woo them. Enter Adobe Resource Central!
Head over to Templates and choose from a variety of themes, see anything from lower third graphics to full page menus and pick the ones you like. Hit download and Premiere does the rest – now you're many ideas richer and a lot more inspired. I can see these are being added to in the future.
CS Live is a suite of online "helper" services that you'll have free access to until April 2012. One of them is Adobe Story which allows you to develop storyboards. You can collaborate with other users and access your ideas from within Premiere to build your project faster – there's even an iPhone app to check when others have updated your project.
Sounds good on paper, but how well it'll work while you're editing is another matter. I have to admit that I can't even figure out how to access CS Live just yet but since I haven't got any storyboard or script developing tools Adobe Story may come in handy. I'm hoping it'll make me focus on my project like a mind map would, with the addition that I can flesh out ideas as they come to me. But that's for another post.
Premiere CS 5.5… It's FAST
Years ago when the first 64-bit chips came out and the OS providers added 64-bit support, I didn't really give it much attention. It would be years until this technology would be in my hands, and would it really be that much faster I thought. Now it's here and Operating System, Hardware and Software are all supporting it. Let's enjoy it!
As I said before I'm on a 13″ MacBook Pro laptop here. I'd understand if it wouldn't be fast enough to scrub through 720p HD files. Or that I may not be able to view smooth previews without rendering… but that's not that case! Premiere and my Mac behave like they had superpowers! Smooth scrubbing, very fast rendering and no need to preview-render my transitions just to find out of I like them or not – I love it.
I understand this is thanks to the Mercury Playback engine which… I know very little about I'm afraid, other than I can tell you it works very well.
Speaking of rendering: It took me less than one minute to transcode a 60 second Quicktime H264 file with a separate soundtrack and several transitions with Media Encoder into another H264 Quicktime (different frame rate and size). It's difficult to give exact benchmarks of course but I'll keep you posted on this.
On Location now on Mac
The trial version does not include Encore (DVD Authoring) or On Location (live feed recorder). Even so, the big news is that On Location is now available in the Mac version too! It's been lacking this very helpful product for the last few iterations. I didn't have a chance to test either Encore or On Location yet so I can't say how well they work.
Conclusion
I am impressed! I loved Premiere CS 3 and did many a job on it – and only a few weeks ago I was introduced to CS 5. Now that I look at CS 5.5 I think I should treat myself, my company and my creativity. Premiere CS 5.5 will enhance my MacBook more than I thought was possible and put video editing back into my hands.
Back when I invested over £600 into Premiere CS 3 I thought I was mad to spend so much money. Usually companies provide kit, what do I need it for – other than learning, exploring and faffing around.
But within a month the product had paid for itself and made me a handsome profit when the BBC needed Premiere Pro editors. That was pleasantly unexpected, and I couldn't have answered that call had I not had in-depth knowledge of the software. It was a good investment. Donald Trump would be proud!
You may shudder at the idea of investing £810 for a video editing software suite, which of course excludes the hardware. And you should, because Premiere is not a lifestyle product. It's a professional video editing suite with perks which is actually fairly affordable compared to the competition. Think about what you're getting – especially if you're a one man band with a laptop:
video editor
title and keying tool
automated batch file transcoder
automated file delivery agent
professional grade DVD and BluRay authoring package
multi video feed recorder (including timelape)
That's already a fantastic suite by itself. But add a Matrox Axio or Black Magic card and you can integrate Premiere into a professional studio environment. Compare this to Content Agent and Procoder (neither of which include a video editor and are specialist tool for file delivery or transcoding respectively) and you're pushed to find something as thought out as Premiere Pro CS 5.5 in one single package.
I admire Adobe for acknowledging a growing market trend and embrace it rather than oppose it. I see this in all their products: Dreamweaver includes PhoneGap with Android and iOS support; Edge isn't even released yet but it's already showing avenues parallel to and potentially post Flash.
Sure there are always things we could add to this (like automatic YouTube or Vimeo uploads, like in iMovie).
One final word about pricing: if the one-off investment is currently too much for you, Adobe have introduced a monthly subscription option from as low as £37 per month – available on all their Creative Suite products.
Let's see some output
I'll leave you with my first Premiere Pro CS 5.5 creation: Dancing Alien HD – eat this and cry, Steve! You could have had this on the iPhone! Anyway, this took me about 20 minutes to cobble together, including rendering time and upload to YouTube. Total file size was 37MB – this was a 720p Quicktime H264 file.
Animated in DAZ Studio, using EF Grey Alien Figure by SmithMicro; background by Stonemason; Dance Moves by GoFigure's Animate; Music by Julia using Garage Band for iPad; rendered in Poser 7.
Enjoy!
Happy Editing 😉