I've been very happy with the performance of Manga Studio 5 on my Surface Pro (1st generation). Today I've discovered that there was an upgrade to to Manga Studio 5.0.6 available and installed it. All is working fine on Windows 10!
So I thought, perhaps I'll try it out on my Mac too. Admittedly it's been a while since I've used it on my desktop, simply because it's just not as enjoyable to draw on my  Wacom Intuos than it is to draw directly on the screen of my Surface Pro. But with a bit of practice I'm sure I'll soon get back into it. Besides, Manga Studio is an awesome weapon to have on your graphic arsenal.
To my shock and surprise though, I've discovered that Manga Studio (before AND after the update to 5.0.6) had a huge brush lag problem out of a sudden! Where did that come from? Last time I checked, my hardware was working perfectly fine with Manga Studio!
By brush lag I mean, "make a stroke on the tablet, and see a line appear 1-2 seconds later on the screen". Yes, it was that bad. Unusable is the word I'm looking for.
So what changed if it wasn't my hardware?
I tell you what's changed: El Capitan has been released, and being the avid geek that I am, I've updated my quad core Mac Mini to the latest and greatest OS X. El Capitan has been very good so far… until I've tested Manga Studio today! Yikes! I certainly had no such issues when I upgraded my Surface from Windows 8.1 to Windows 10. There had to be a way to get rid of that brush lag on my Mac too – and I think I've figured it out.
Things to check before panicking
Believe it or not, Manga Studio actually has a built-in "lagging" option. This can be quite enjoyable and is there to stabilise our brush strokes. But it's easy to enable and disable under Preferences – Cursor – Display Position (at the very bottom of that window).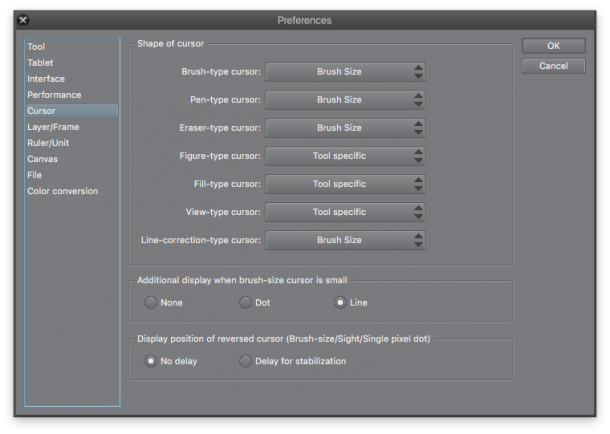 No Delay has a more "direct drawing feel", whereas "Delay for stabilisation" smoothes out brush strokes a little bit. It's personal preference really. I didn't even know the option was there until today. But the delay is so minimal that it didn't cure anywheres nears what I was experiencing.
Just thought I'd mention this little nugget. This option exists in both Windows and Mac versions of Manga Studio.
Another Mac only thing I've discovered (but really couldn't make head or tails or) was hiding under Preferences – Tablet. While the Windows version shows a selection of "Wintab vs. Tablet PC" here, the Mac version has 6 ominous numbers in a drop down menu. It also has an interesting "Do not skip update of drawing" option.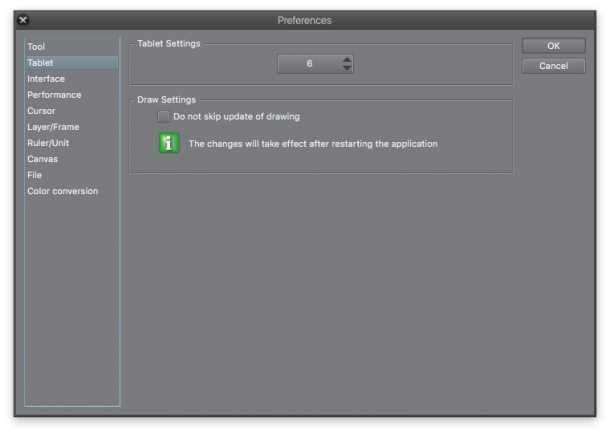 Thanks to JPipe over on Penciljack.com we now know that this may well disable brush lag on certain systems – but sadly it didn't work for me. I do see some improvement, even though I still don't know what it does.
But again, do check into this. Perhaps it'll improve your brush lagging problems (if you have any indeed).
Wacom Drivers
Neither of the above cured my problems, and my brush strokes still felt like rubber. Photoshop CC 2015 does not produce these problems and my strokes felt very direct – unlike in Manga Studio where I felt like I was using a giant delay brush.
I did notice something else though: occasionally, my strokes were not recognised. Only for half a second or so. Even hovering over generic Mac items unrelated to Manga Studio, I felt that every so often, the cursor position wasn't transmitted or tracked properly.
It reminded me of a maxed-out ZBrush installation when the system is trying to do too much and just doesn't have time to draw that stroke. Again, never had this before that El Capitan update – but something in addition to the Manga Studio brush lag was going on here.
The obvious solution is of course a new Wacom Driver for my intuos tablet. Makes perfect sense too: mine was 6.3.11 – perhaps an update was available from Wacom.com.
Turns out that my Intuos 4 Wireless is now no longer supported – fair enough, it's getting old. The latest driver was 6.3.11-w, and it didn't solve my brush lag issues. There is also a newer version for newer tablets (Intuos Pro and beyond, from the time when Wacom started cranking out 50+ tablets every week).
Because I'm an experimental type of hacker, I thought I'd install that driver anyway – version 6.3.15-1. And I must say it's working just as the previous version did.
But sadly, it also didn't cure my brush lag. Dang!
The Solution: don't use USB when you can use Bluetooth
Even though my Intuos 4 is wireless, I have it plugged in to a USB port all the time. The battery lasts a whole day, but since it's in a stationary position, having a cable attached isn't really making a difference – I never move the tablet around anyway.
But I thought, perhaps a different USB port would make a difference. My Wacom was plugged into a port on the Thunderbolt Display, so it didn't have a direct connection to my Mac Mini. I quickly changed that and tried it with a direct USB 3 port – but it didn't make a difference. I still had the Manga Rubber going on.
Then it hit me: take out that cable altogether and try it via Bluetooth! Not that it makes any sense: how can a wireless connection potentially be faster than a wired one?
What can I say? Using Bluetooth totally worked and cured the brush lag!
I know, I know… it makes about 0% sense, but by simply pulling out that cable and connecting my tablet wirelessly, all my issues are now solved – both in Manga Studio and (to a much lesser extent) in Photoshop and everywhere else.
That occasional tracking drop-out? History. Brush strokes lagging 2 seconds behind in Manga Studio? Gonski!
Is it my Mac? Is it El Capitan? Is it my Intuos? Hey who cares! I can use Manga Studio again 😉