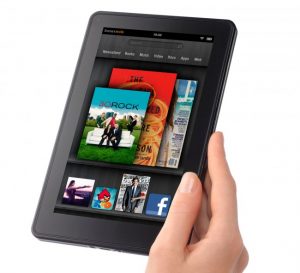 Back in 2011 I bought a first generation Kindle Fire in the US. It hadn't been released anywhere else, and this device started the whole Kindle Tablet business for Amazon.
It's still working, and I'm still using it as a "bedside" Kindle (my Kindle 3, or Kindle Keyboard, doesn't have a backlight, so the Fire is my "reading in the dark" companion).
Trouble is, the Kindle Fire doesn't always sync my books with other Kindle devices. Sometimes it does, but sometimes it does not – and I never really knew what to do about it.
Until some online research gave me the solution that I'd like to share with you. Just in case this happens to your device.
This fix may work with other (Android based) Kindle Fire devices too, but I've only tested it with a first generation Fire (serial starts with D01E, Firmware 6.4.3).
The Problem
On the same Kinlde account, I have my Kindle Fire and several other devices (Kindle Keyboard, Kindle DX, iOS App, etc). All devices sync the last page fine, but sometimes the Fire does not.
It's the same for sending as well as receiving the furthest page read. It's annoying, because syncing is one of the coolest features about Kindle devices. It wasn't always like this and only started creeping in over the last year or so.
The Solution
Turns out that on Android-based Fire tablet devices, the Kindle reading app is just another app – and as such it's prone to crashing on occasion. It probably doesn't help that the first generation Kindle Fire hasn't seen a firmware upgrade since its release, and there's unlikely ever going to be another one.
After all, this device runs on a modified version of Android Gingerbread, and that's so old that nobody should ever mention its name again. Built-in obsolescence it's what technology is all about these days. But I digress…
To fix our issue, all we have to do is to simply restart the Kindle app, and perhaps clear it's (stale) cache while we're at it. No time consuming reboot required!
Here's how to do it:
from the Home screen, at the top, press that little gear icon to enter Settings
select More (the plus icon)
from the long list of stuff, select Applications
in another long list of stuff, find and select the Amazon Kindle app
Now we have several options: Force Stop the app, clear its data, or clear its cache.
I suggest you try "Force Stop" and "Clear Cache", then head back to the home screen and select you latest book. This will restart the app and – hopefully – enable proper syncing again.
In super severe cases, you can select all three options, but clearing the app's data means you'll lose all your downloaded Kindle books. You can of course download them again, but this step usually isn't really necessary to bring back syncing. Just in case the other two options on their own don't do the job, try "Clear Data" as a last resort.
And that's it! I hope this will make your Retrotech Kindle Fire work like a charm again, like it did for me.