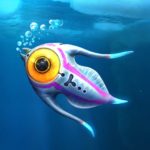 Subnautica game save files can currently not participate in any "cloud save" options as far as I'm aware. As such, to transfer files between systems or to make backups, we'll have to dig deep inside a system folder to find said data.
The exact path depends on which marketplace you purchased the game from.
Steam
I got mine from Steam, and the path is
Program Files (x86)\Steam\steamapps\common\Subnautica\SNAppData\SavedGames
The folder contains an options folder as well as a folder such as "slot0001" for each save game.
Epic Games
I don't have the Epic version, but I hear on the grape vine that save games are stored in the User's folder. Say my user name is "versluis", then the full path would be
C:\Users\versluis\AppData\LocalLow\Unknown Worlds\Subnautica\Subnautica\SavedGames
Other services
I understand that Subnautica is also available from other marketplaces such as Discord, as well as Xbox One and Playstation 4. Sadly I have no idea where those save games are stored.
Should I ever find out, I'll update this article. Likewise, if you know any such path, please leave it in the comments below.