Sometimes I use the option to open a new window when preview playing my project in Unreal Engine. That way I can still keep an eye on other goings on in the editor while watching the action. The option comes up on the little three dots menu next to the play button.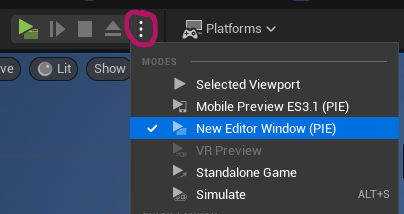 The new window that's created is 1280×720 by default, but there's a way to change this that I didn't know about. Under Edit – Editor Preferences we can change all kinds of settings about how the Unreal Editor behaves, including the Game Viewport Settings. This will determine the size of that new window.

I must admit I've never looked into the Editor Settings and I've been playing with Unreal Engine for close to 4 years. I guess we always find new places to investigate!