After such an amazing experience with my own home made burgers, I thought I'd give the Chiswick High Street ago and seek out the ultimate defender of the burger.
They stopped counting once they had sold their billionth burger, they had countless re-designs of their stores and re-bradnings. They've never had a good review in their life and were under public scrutiny since 1982 – of course I'm talking about the one and only Mc Donald's.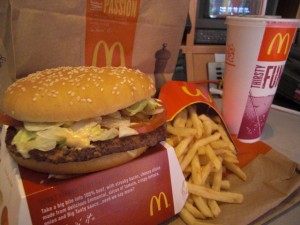 I've seen this particular candidate on their menu before, called The Big Tasty.
Inevitably, I associate this burger with the taste of human flesh… there's something about the special sauce that reminds me of when the German cannibalism trial was on (remember? Bloke answers an ad and wants to be eaten, then eats parts of himself with the other guy? Not funny!) – think that's when the Big Tasty came to Britain.
First things first:
I ordered the one with bacon. It said "with bacon" on the box, and that's certainly what I've paid my £5.29 for (that's with soggy fries and a flat diet coke). Bacon would seriously have made a difference here – but it was not to be. 27 thumbs down for that to start the review.
Next up:
the burger itself. Bigger than the bun, fried well (at Micky Dee's, they're not grilled you know). There's something about that beef taste though… I'm sure it's not 100% as the advert claims.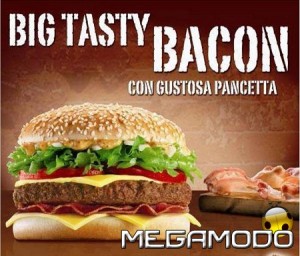 We also find some "special sauce" on this thing, a slice of tomato, some lettuce, cheese (preformed) and onions. It's all like the advert describes, it just does't look like it.
When I ordered the "large meal", I didn't recall being asked if I wanted some chips with my salt either! I did find some though: soggy, not sweaty, and with that typical Mc Donald's fat taste once they cool down. You know, the one that sticks to your gums long after the meal is over.
This burger combo gets some plus points in regards to price though:
for the same amount of food, you sually have to shill out a lot more money. And when you do, you don't get a headache later that day, like in this example (now we know what we pay extra for). My overall wellbeing after eating this was… well… not amazing.
Sure I survived, and I've lived on an almost exclusive Mc Donald's diet many moons ago – but it looks like over the years my body has developed senses for what's good and what isn't. This clearly isn't!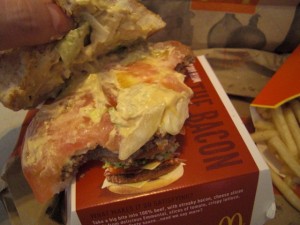 In conclusion:
This monster of a huge burger isn't for the faint hearted. In fact, it's for NOBODY. Do youself a favour and order the nuggets instead.
Verdict: 47 Thumbs Down!
————————————
FURTHER READING:
If you like to try your own hand at running The Fast Food Business and experience the difficulties first hand, why not try the amazing McVideo Game at http://www.mcvideogame.com/ (not endorsed by McDonald's btw)