I think I have found a few tips on how to minimise this issue – but be aware that I'm on my second S3 camera here and they both rip film no matter how hard I try:
Don't worry about film wastage at the start of the roll. Make sure the film winds on well onto the take-up spool.
Make sure there's no slack on the take up spool. If it gets too thick towards the end of the film, the camera will rip the perfos and your film is toast.
When in doubt, open the camera in a changing bag and feel if everything is OK in there. I had to take many films out in a bag for developing, rather than rewind the film.
If you feel a resistance when rewinding, don't use force. You'll rip the film otherwise. Havin said that, this thing makes you "feel" everything is fine upon rewind, and when you open the door the film has ripped…
Watch the film counter. If you're at frame 18, forget the last few shots and rewind the film. You can easily miss the end while the camera rips the end off the spool.
In a nutshell it means that you can't rely on this camera. Holgas have better reliability than this thing, and as much as I like the results – IF I get to see them – I have no use for a heavy plastic brick that costs me money and makes me sad because it destroys my pictures. Bad Horizon!
Loading the Horizon S3
It is a rather fiddly task to actually put some film in this hungry beast – especially when your out in the field. I reccommend grabbing a spool of expired film and practice the loading / unloading procedure a few times.
This video by Nippon Camera illustrates how to load the Horizon Perfekt:
Once you fiddle your way through countless nooks and crannies, be aware that you can take up slack by pressing the rewind button (which disengages the  sprocket transport roll) until the film is flat in the gate.
Good luck – you'll need it!
My Verdict
It's a tricky one… This is a professional camera, not a plastic toy camera (which I'm usually into). But of course, the 24x58mm format and it being a swing lens camera make it a "must-have" gadget for me. The results – if they come out – are absolutely stunning and give your pictures a quality that no other camera can rival.

However, a camera with such a price tag (US $400 / GBP £300 / Lomography £417) absolutely CANNOT and MUST NOT have film eating issues. If you can't rely on your films ever coming out then there's really no point in taking it out to a shoot. Even though loading the film is ridiculously complex, it is fun to do – and of course the Horizon S3 Pro looks otherwordly stunning. Being forced to use f11 or f16 for 1-2m close-ups is annoying, so I guess this thing isn't really made for my style of shooting.
Maybe I'm just exremely unlucky, but in general I haven't got time for something that doesn't do what it says on the box. If you're looking for a panoramic camera, I can't reccommend this one. Instead, get a Sprocket Rocket or Spinner 360 from Lomography for around a third of the price – and be assured you'll actually see what you're shooting.
27 Thumbs Down 🙁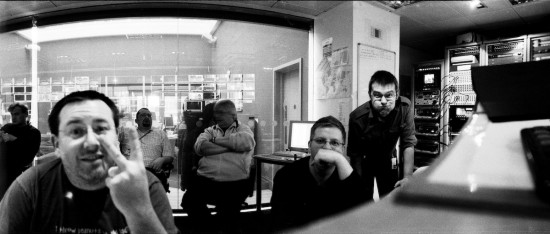 Further Reading:
You can see more of my panoramic output is on Flickr in my New Horizons collection.