It looked fresh and intact, apart from one small incision that had been made into the watermelon. Maybe it wasn't going to be our desert after all. Closer examination revealed that something was stuck inside the melon:
A piece of folded white paper.
It was major hassle to take it out of the melon of course, which is why I left this to our last day at the hotel (the melon had been leaking and smelling a bit actually).
As you can imagine the piece of paper was drenched and very fragile yet the ink was still readable. Even though I was very careful not to damage the single sheet of paper, it took some good old fashioned craftsmanship to put the torn pieces back together.
Lucky for me I had the sturdy packaging of my iPad Screen Protector with me which I used as a handy canvas onto which to stick the wet pieces of (smelly) paper in the midst of packing our suitcases.
The result is this: a handwritten letter in Spanish by someone named Lizbeth to her loved on: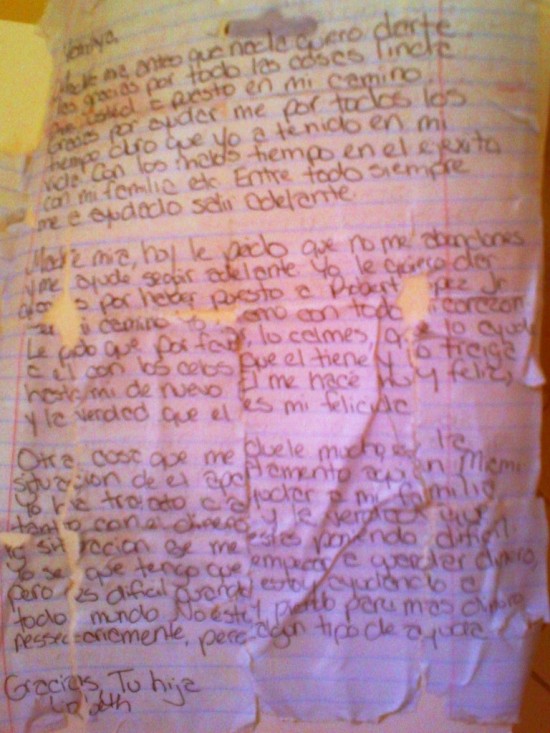 This message is obviously not meant for me but for someone else – and I can't help but think that perhaps the letter was never received. In which case, maybe my post will help bring this message to the intended receiver.
Abut the Video
When it came to editing the video, I thought the letter would make a great narrative, intercut with generic Harinezumi views of the surrounding North Beach area.
I saw a video of New York once on Vimeo and I really liked the soundtrack: just a simple electric piano to accompany the images. Inspired by that I used my Technics upright and recorded some notes with Harinezumi.
To add the feel of yesteryear I added a hum-crackle sound effect thanks to the wonderful guys at Freesound.org (this one is called Dr Ni's Noise Defective Medium Wave).
All footage was shot on Harinezumi 2+++ on Vivid 1 – no post production other than editing in Adobe Premiere.
Enjoy!