First Stop: Storage and Camera Repair Shop
Our journey begins at the bottom of the factory in a temperature and humidity controlled storage area. This is where rolls of incomprehensible materials are waiting to be brought up to the machine on the third floor. Some look like mylar, some look like tape, some are just crates. We can also see some old Polaroid Instant photo booths here. And of course there's a container full of lose Impossible pictures that haven't quite made it into packets. We had a guy in the group who picked it up and got developer paste all over his hands… it wasn't me!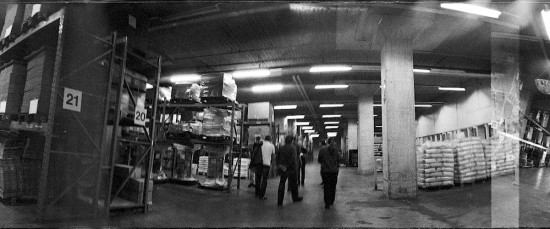 Through a few more doors we meet the two people who are in charge of repairing and refurbishing old Polaroid cameras. They find them on eBay and Marktplaats, do them up and sell them again. There are hundreds of spare parts neatly arranged on a table and we do our best not to touch anything – but it's hard with so many goodies stacked on shelves: vast amounts of 600 cameras in all shapes and sizes, Spectra cameras and some SX-70 Land Cameras. If it's integral, it can be repaired here.
Jos Ridderhof can repair any Polaroid camera: when I showed him my Golden SX-70 his eyes lit up: "You can't get these anymore" he says, snaps it out of my hands and starts taking it apart at the speed of light. I'm trying to follow how he does it but hey – he's an artist, and his craft isn't taught anymore. Within one minute he has cleaned the viewfinder, the rollers, separated bits I didn't even know one could separate, and he cleaned the underside. He loved the Golden Polaroid just as much as I do.
He told me these were very limited edition runs, 1000 to maybe 1500 had been made. "Helmuth Kohl has one" he says, with his name engraved on it. There are also even rarer editions that have diamonds on them – maybe I'll watch out for one of those.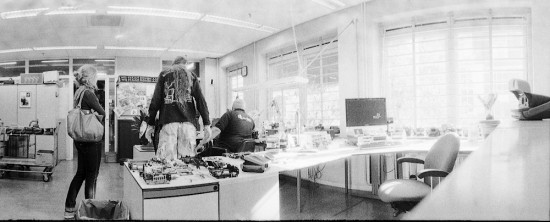 Next thing I know the group has gone and my wife tells me to get a move on – even though I could have spent hours talking about old cameras. It's so ultra rare that we meet people like him – it was such an honour.