GoZ (pronounced Go-Zeeh) is a bridge between ZBrush and other applications. This allows for easy mesh and texture sharing between ZBrush and Sculptris, Photoshop, Poser, Carrara, DAZ Studio and many others.
But how do we use it? Where is that magic button? And how do we select the target app? All will be revealed in this article.
Under Tool you'll find the GoZ button in the first section at the top (it's easy to miss):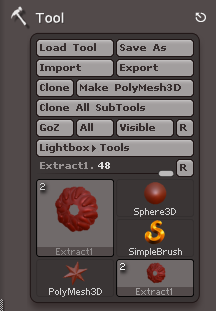 Just next to it you'll find three options: All, Visible and R. Select either All or Visible to choose which objects will be sent via GoZ. This works with the current tool or a sub tool or a combination thereof. Nothing happens when you do, but ZBrush will remember it.
Click the GoZ button and a dialogue window appears. When you launch it for the first time ZBrush will search your hard drive for apps it knows, but it may get it wrong and say something like "Photoshop is not installed". In which case, you can specify the paths to your apps under Preferences – GoZ.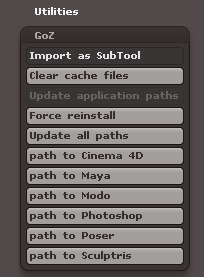 GoZ is a one-click operation to make it deliberately quick and easy to exchange data between two apps. Therefore, ZBrush will remember whatever app you've chosen last time and launch it automatically the next time you press that GoZ button.
This may not be what you want. To change your target app, simply press the R button in the palette – NOT the R Button on your keyboard, as the documentation makes you believe. I mean the little R next to the All and Visible buttons in the Tool menu.
Pick your target app, then hit GoZ and send your creation to another app instead.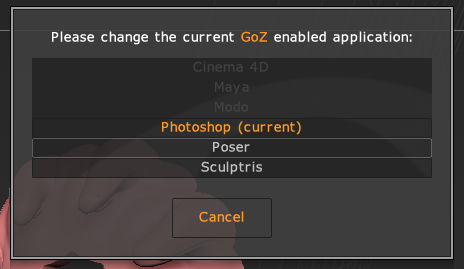 Your target app should launch automatically and may present you with a dialogue box to acknowledge the import (shown below is Poser Pro 2014).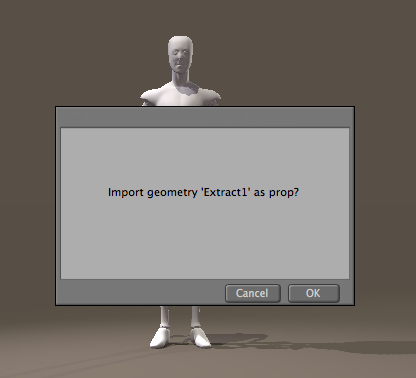 Note that to use GoZ with DAZ Studio and Carrara you need to install the relevant files from DAZ as they are not provided bundled with ZBrush: