One morning I woke up and my entire Smart Content tab in DAZ Studio was empty. Nothing had happened since the day before when it was working perfectly fine. It just stopped working overnight.
What I had done shortly before going to bed was to install the latest service release of Poser Game Dev (SR5). If this was the cause of the problem or not will forever remain a mystery. In this article I'll explain how I fixed this issue on my Mac.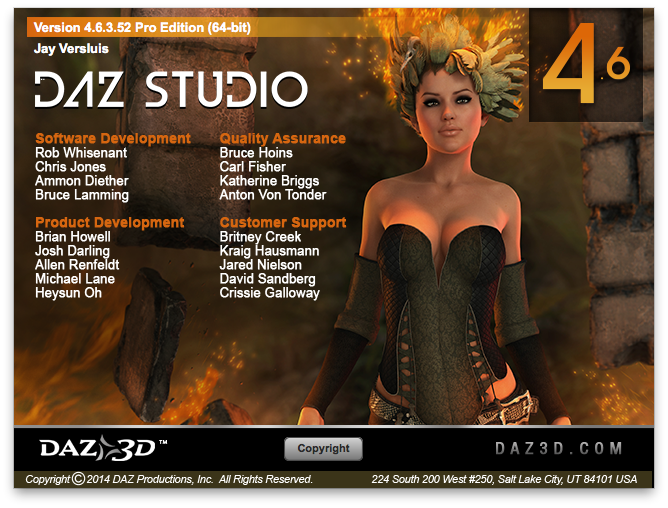 Content Management Services you say?
DAZ now offer two types of metadata management. They both rely on  a database server to run which can manage which content belongs to which figure, what type of content an item is, and so forth. Those are background services, also known as daemons: little always-on apps on your system.
For many years this was Valentia DB, but as the demands for more metadata has risen over the years, users have on and off experienced problems with database corruption – which is why DAZ Studio 4.6 now supports PostgreSQL. Now DAZ Studio users can choose to use a different database server for their metadata if they wish, or stick with Valentia DB.
CAVEAT: If you're using Carrara 8.5 then PostgreSQL is not going to work because Carrara does not currently support it. Hence, I'm sticking with Valentia DB for now – and it looks like that's what I have a problem with on my Mac.
Is  the Database Server running?
A few hours of research revealed that the DAZ Content Management Server (Valentia DB) was not running on my Mac. I never had a problem with it until today.
To check if the service is up, head over to Applications – Utilities – Activity Monitor. This will bring up a nice GUI akin to the command line tool top and allows you to see everything that's running on your Mac right now. To narrow it down, type "daz" into the top right search box.
In an ideal world we're expecting to see DAZ Content Management here, but that wasn't the case for me. You may also see the DIM (install manager) and DAZ Studio if those are running: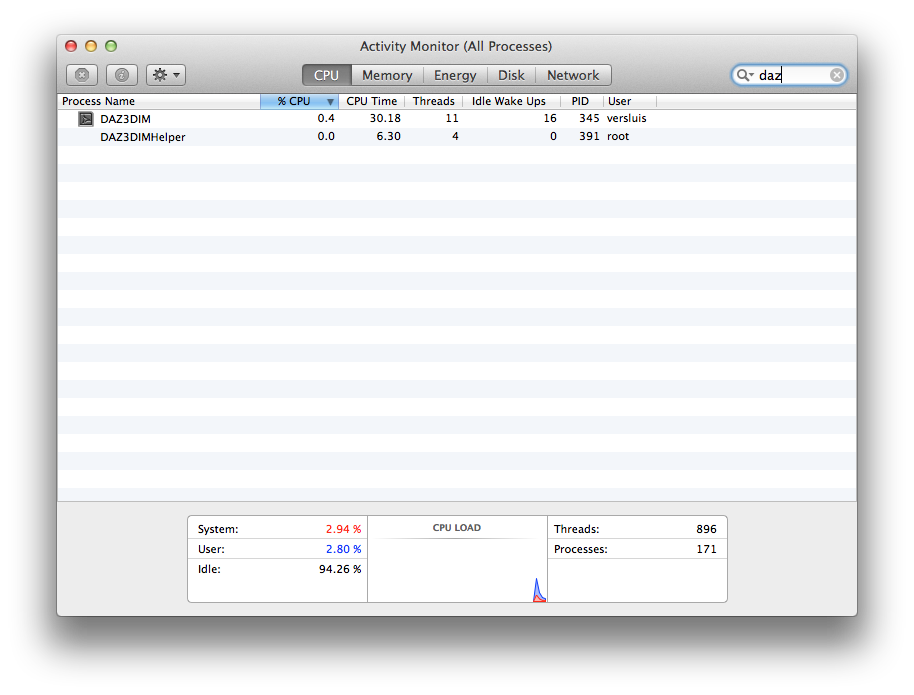 On Windows there's a similar tool called the Task Manager – it's probably easiest to search for it rather than figure out where they've hidden it in Windows 8.1 Check out this link for details.
If a service isn't running, it's probably best to start it and see if this fixes our problem.
Manually starting the DAZ Content Management Service
Thankfully DAZ have provided two small scripts that let us start and stop Valentia DB. On Mac those are in /Mac HD/Library/DAZ 3D/Content Management Service/Utilities and are aptly named
Start DAZ Content Management Service
Stop DAZ Content Management Service
Both will prompt for your admin password. If all goes well, the service should start and it should show itself in the Activity Monitor – and of course that Smart Content Tab in DAZ Studio should now be populated as it was yesterday.
Naturally this wasn't the case for me: the service simply didn't want to start anymore. Poor thing. Perhaps he was sick and tired of serving content, or something else was preventing it from doing so.
Checking the Error Logs
Every system admin knows that if things fail, it's best to check the error logs to see why and how something has failed. I always forget that this is less painful than it sounds.
On Mac those logs are best investigated via Applications – Utilities – Console. This will display literally every system log message, so simply filter out anything by typing "daz" into the top right search box again. Here's what mine looked like: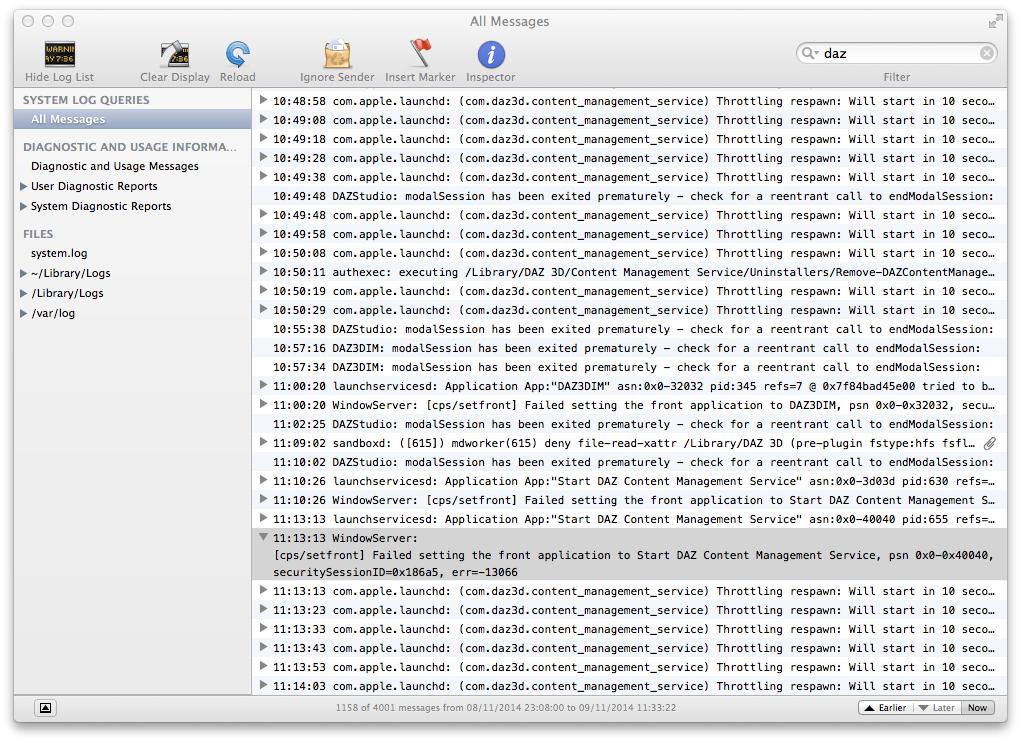 Here are the highlights:
09/11/2014 11:13:13.384 launchservicesd[108]: Application App:"Start DAZ Content Management Service" asn:0x0-40040 pid:655 refs=7 @ 0x7f84bad05180 tried to be brought forward, but isn't in fPermittedFrontApps ( ( "LSApplication:0x0-0x41041 pid=658 "SecurityAgent"")), so denying. : LASSession.cp #1481 SetFrontApplication() q=LSSession 100005/0x186a5 queue
09/11/2014 11:13:13.384 WindowServer[121]: [cps/setfront] Failed setting the front application to Start DAZ Content Management Service, psn 0x0-0x40040, securitySessionID=0x186a5, err=-13066
09/11/2014 11:13:13.517 com.apple.launchd[1]: (com.daz3d.content_management_service) Throttling respawn: Will start in 10 seconds
According to this it appears that the service is trying to start, but isn't allowed anymore. God only knows why, because it sure as hell was less than 12 hours ago. Are the Poser people trying to jeopardise DAZ Studio users? Or were my 3D characters not happy with the morphs I keep drawing onto their faces? Was it Revenge of the Runtime?
How can we fix this, Cap'm?
According to this forum thread we should be able to
uninstall DAZ Studio
uninstall the Content Management Service
re-install DAZ Studio
which in turn should also re-install and perhaps fix the CMS
This approach works – but because the DAZ Installation Manager (DIM) gets involved it may not work as expected.
I had installed DAZ Studio 4.6 via DIM, so I uninstalled it via DIM too. But re-installing it via DIM does not re-install the Content Management Service – it's only installed when the manual installer is used (they don't tell you this in the tourist brochure).
So here's what worked for me, step by step, on Mac OS X 10.9.5 (Mavericks):
uninstall DAZ Studio via DIM
uninstall DAZ Content Management Service (under /Mac HD/Library/DAZ 3D/Content Management Service/ Utilities/Uninstallers/ RemoveDAZContentManagementService
remove all files from /MacHD/Library/DAZ3D
remove /MacHD/Library/LaunchDaemons/ com.daz3d.content_management_service.plist
download the DAZ Studio installer from daz3d.com (under My Account – Product Library – DAZ Studio 4.6 Pro)
use the blue download button, don't use the green one because this will open DIM which will not re-install the CMS
once downloaded, double-click the file to unZIP it
double-click the installer and follow the instructions
Make sure to point to your existing DAZ 3D Library during the installation. When it's finished, launch DAZ Studio and notice that your Smart Content pane is still empty.
Find that little disclosure triangle and select Content DB Maintenance.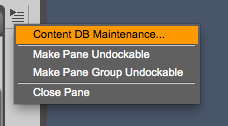 This will present you with a modal window. Select Re-Import Metadata and you'll see a list of all your products in the associated directories. All should be selected by default, so click Accept and grab a coffee.
After a while you'll have your Smart Content pane repopulated.
Further Reading