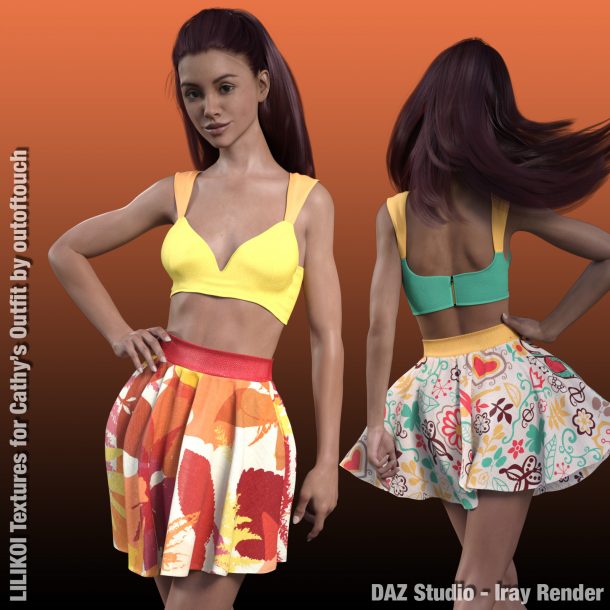 Here's another texture set I've made for the wonderful Cathy Outfit by outoftouch. I call them LILIKOI. It means "passion fruit" in Hawaiian. Very fitting I thought!
LILIKOI contains a total of 20 texture presets for DAZ Studio, 10 for NVIDIA Iray and 10 for 3Delight. You can mix and match any skirt with any top for a total of 100 combinations (if my math skills are correct).
All maps are 4000×4000 pixels, ideal for ultra high resolution renders. You can check out those promos at 1600×1600 by right-clicking on an image, then select "Open in New Tab".
This slideshow requires JavaScript.
Installation and Usage
Unpack all ZIP files into your Poser/DAZ directory.
Load a figure, then apply the "Cathy Outfit" to it.
In DAZ Studio, head over to your Content Library tab and navigate to
People – Genesis 3 Female – Clothing – OOT Catht Outfit – Lilikoi.
Choose either the Iray or the 3Delight folder.
Apply your selections to the dress.
Render and enjoy!
You can buy Cathy's Outfit here, and my Lilikoi Textures here.