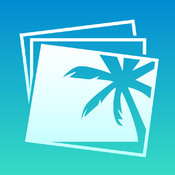 A few days ago I was sitting together with my Mum in her hotel room and explained how she can upload all her photo treasures past and present to Flickr. A while ago she bought iPhoto for her iPad as a convenient solution that did not require a laptop (which she doesn't like).
Yesterday Apple have released a new version of iPhoto 2.0 for iOS – and sadly ruined some of the best features the app had to offer.
Let me share with you my official App Store review that I've just posted – before it is deleted and deemed "inappropriate".