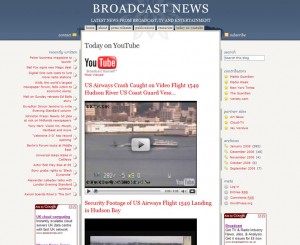 Although a few days old already, I'd like to share my latest website project with you: give a warm welcome to http://www.Broadcast-News.co.uk. As the titlle suggests, it's a website featuring the latest news from Broadcast, Entertainment and TV – in short, the industry I've built an almost 20 year old carrer on. It's a superb tool to catch up on the latest developments and appear extremely well informed, The fascinating bit though is that this website is ALIVE!
My idea was to build something like an Artificial Intelligence, and with Broadcast News, I've succeeded! Each time you check the site, it will contain different content: different news items, different videos, different publications. It manages this by automatically reading RSS feeds from The New York Times, Variety, Media Guardian, and Press Releases from PR Web. It also displayes "Todays Most Watched Videos" from YouTube. All these sources are updated regularly, and my site checks every few minutes if there's a new article available. If that is the case, it gets syndicated.
Of course the site is build on WordPress, with a nifty plugin called Feed WordPress. For YouTube videos, Amazon books and Press Releases, I'm using a PHP script called CaRP, presented in Blogwarhammer's wonderful Disciple Theme.