A massive difference from the 120 version is the pressure plate, a spring loaded black plate that presses the film gently over the film chamber. That keeps it flat during exposure and is often left out for cost.
Technical Specs
The manual states the lens to be a 47mm, which means it's wide-ish for a 35mm camera. It looks just like the 60mm lens from the 120 version though, but judging by the results (see below), 47mm sounds about right.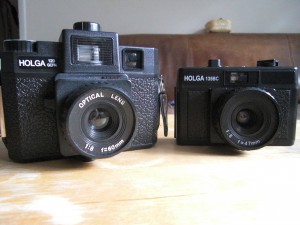 The Leaf Shutter speed is 1/100th of a second, which I can't confirm or deny. The one stated aperture is f8, which is true for both the sunny and the cloudy setting.
An external flash gun gets triggered on either setting (I've tested the camera with a Canon 580EXII), but interestingly it triggers both the first and second curtain. It's an important detail if you're out for some bulb-flash experiments.
Let's take some pictures
I couldn't wait to try my brand new Holga out. After all, it's the 6th in my collection, but I didn't know what to expect for results. Would the 35mm version deliver pictures just as cool with an otherworldly feel to it? I paid my £39.99 at the Photogrpaher's Gallery Shop (just off Oxford Street) and picked up my wife from a osteopathy session. There'd still be plenty of time left in the afternoon.
To my disappointment, it was a rainy cloudy day over Marble Arch that afternoon, but I decided to give it a spin anyway. I grabbed a roll of Ilford HP5 and finished it off in Camden the next day.
I knew I had to help matters a long a bit, so I developed the roll at 3200 ASA. Here are the results from my first ever roll in what could well become one of my favourite cameras.
[singlepic id=416 w=500  float=none]
The grain is not artificial, it's due to the higher ISO setting I'm using. Although I'm not heavily into black and white photography, this could just convince me to keep going that way on cloudy days.
The slight sepia tone was added by Adobe Lightroom, I like it a bit warm – it certainly helps make black and white pictures look their best on non-calibrated monitors.
[singlepic id=403 w=500 float=none]
[nggallery id=23]
You can also see the full set on Flickr. Enjoy!