This morning I've noticed that my measuring tool had disappeared from the 3D toolbar in Marvelous Designer. I was using it only last week. I could still get to it using Avatar – Measurement, but the icon had gone. How do we bring it back? And why did this happen in the first place?
Thankfully we can right-click on an empty space in the toolbar and bring up a menu that lets us enable and disable tools at our own leisure. My Avatar Measure Toolbar was indeed disabled.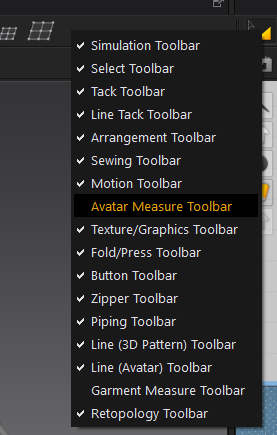 When I re-enabled it, the icon was back where it had once been.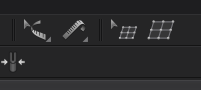 Turns out I'm not alone with this "feature": Chris Cox has had the same experience, and it appears to be caused by making the 3D window smaller. That's exactly what I had done to! In the process, some icons don't fit anymore and seem to be dropped temporarily. As the window expands again, most of them come back – but I guess not all of them.
Thanks to DreamLab Studio and Chris for bringing this fix and its cause to my attention.