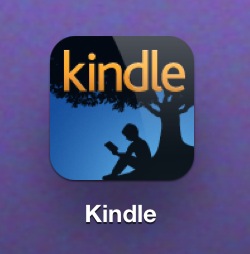 Today Amazon have released a new version of their Kindle for iOS App (3.0.1). This must be a direct response to some feedback I have sent over after the last update (3.0 for Retina and Amazon Cloud Integration). The previous update didn't show new content after I had purchased it.
I love my Kindle, and I love my content. And I love the Kindle App on all my other devices: I can read on anything I happen to have with me: Kindle, iPad, iPhone, Laptop. That rocks!
Here's a slightly annoying email thread I had with Amazon's low level support who clearly didn't understand the issue I was bringing up – from one developer to another.
 My initial feedback to the issue, 17/03/2012:
Hello Amazon,
I think I found a bug with the new version of Kindle for iOS. Let me explain what's happening.
I have bought a new iPad yesterday (the one with Retina display). I've previously had an iPad 2 and the Kindle for iOS worked great. I have registered my new iPad as a new Kindle on my account so both my iPads show up correctly.
However, new content does not show up in the Cloud tab in the device. Note that this problem did not occur with the previous version of the app. I still have it installed on my iPhone and new content correctly shows up.
The only way I can get new content in the new version is by uninstalling and reinstalling the app.
I don't mean to complain at all, just wanted to let you know my experience. I'm a developer myself and I'm sure this problem will be addressed in the net update. I love the new feature by the way, Kindle on the new iPad is an even better Kindle experience
All the best from Miami Beach,
Jay Versluis
Version: 3.0
Hardware Platform: iPad3,3
On Device Item Count: 6
OS Version: 5.1
Cloud Item Count: 33
Sideloaded Item Count: 1
—————
Amazon's response, a couple of hours later:
Hello,
First, please allow me to apologise for the inconvenience this matter has caused.
If you can't find your content on the Kindle for iPad reading app after upgrading to version 3.0, try the following troubleshooting steps in order.
Step 1: Sync your device and check for content:
 With your app open, sync the app by pulling down the Home screen (swipe your finger downward).
To check for content, tap the Cloud tab at the bottom of the screen and tap "All Items" in the upper-right corner of the screen. (on iPhone and iPod touch, scroll to the right to see "All Items.") You should then see all content in your Kindle Library (archives). Tap Device to see all items downloaded to your device.
Step 2: Check Wi-Fi:
Close the reading app.
Confirm that your wireless data service or Wi-Fi is enabled on the device and that status indicators show an active connection.
Open the reading app and log into your Amazon account.
Sync your app.
Step 3: Check your registration:
On the Kindle app Home screen, tap the Settings icon (the cog) in the lower-right corner. (On iPhone and iPod touch, then tap "i.").
Tap "Settings.
Tap "Registered to…" and then tap "Deregister this Kindle."
Enter your Amazon account e-mail address and password and tap
"Register this Kindle."
Sync your app and check the Cloud tab again.
Step 4: Reinstall the app:
On your device Home screen, tap and hold the Kindle app icon until the icons start to shake.
Tap the "X" icon on the upper left-hand corner of the icon.
Tap Delete to confirm app and content removal.
Open the App Store on your device and search for "Kindle." Reinstall the app, sync, and check the Cloud tab again.
If you still can't find your content, you can reach us by chat or phone directly and toll free from many countries. Learn how on our Kindle Support website at:
http://www.amazon.co.uk/kindlesupport
Thanks for using Kindle.
————-
Not satisfied with this, and since they're asking nicely "did this solve your problem", I felt compelled to answer back.