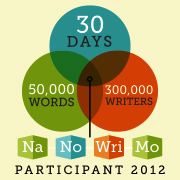 There's an annual National Story Writing Contest called NaNoWriMo. It happens every year in November and participants have exactly 30 days to write furiously to come up with a 50.000 word novel.
The idea is not to finish a masterpiece in this time, but rather to establish a daily routine in which the goal is to "do writing" rather than procrastinate, edit, try to perfect or think yourself out of a good idea. There are even local groups that come together and write in silence, but also to encourage each other to pull through to the magic 50k.
Many creatives have often remarked that there is no special spark that needs to happen for anything creative to happen, it's rather about "sitting down and doing it" and not about "thinking about it".
You know me, I'm up for a challenge – and it dawned on me that with such a cool writing tool as Storyist on my hands, plenty of forthcoming time ahead of me, and an amazing story to tell, NaNoWriMo is just what I need in the forthcoming twilight season I'd like to call Stateside.