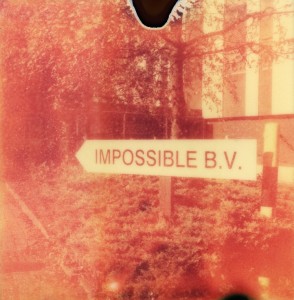 We were lucky enough to get an glimpse inside the Impossible Factory in Enschede a couple of weeks ago! With way too much on my plate right now I didn't find a chance to post this until now.
Setting off at 4am from London we first flew over to Bremen,  from where my friend Oliver was kind enough to drive us 200km over the border to Holland. Thanks, Oliver!
What can I say – it was a blast! All our questions about Impossible material were answered, we were shown how it's made and how it all came to be. We had an amazing chat with Andre Bosman who took literally hours being the perfect host and tell us everything us fans wanted to know (he's also CEO and Co-Founder of the company).
Thousand thanks go to the entire Impossible Team who made us coffee and nibbles so we felt right at home. Let me show you some pictures mere mortals (and Polaroid enthusiasts) can only dream of: let me take you Inside the Impossible.